KAUST Ph.D. student Qurrat-Ul-Ain Nadeem won a 2018 Marconi Society Paul Baran Young Scholar Award and will receive it on October 2 in Italy.
KAUST Ph.D. student Qurrat-Ul-Ain Nadeem received a 2018 Marconi Society Paul Baran Young Scholar Award for her work in full-dimension (FD) massive multiple input multiple output (MIMO) transmission technology. Nadeem's work in transmission technology could more than double the average throughput performance of existing wireless communication systems.
Established in 1974 by the daughter of Guglielmo Marconi, the Nobel laureate who invented radio, the Marconi Society promotes awareness of key technology and policy issues in telecommunications and the internet and recognizes significant individual achievements through the Marconi Prize and Young Scholar Awards.
"I am a Pakistani woman pursuing a Ph.D. in Saudi Arabia, which speaks about the country's new focus on research and innovation," Nadeem said. "KAUST has definitely taken the lead in promoting science and technology in [Saudi Arabia], and I think that this award will...encourage more women in the region to enter the field of science and accomplish even greater things. I'm really...honored to be considered worthy of being among Marconi Society Young Scholars and to have my work recognized by luminaries in the fields of wireless communications and networking."
Nadeem received her bachelor's degree in electrical engineering from Lahore University of Management Sciences (LUMS.) She received a master's degree from KAUST in 2015 and has been working on her Ph.D. in the research group of Professor Mohamed-Slim Alouini in the University's Computer, Electrical and Mathematical Science and Engineering division since 2016.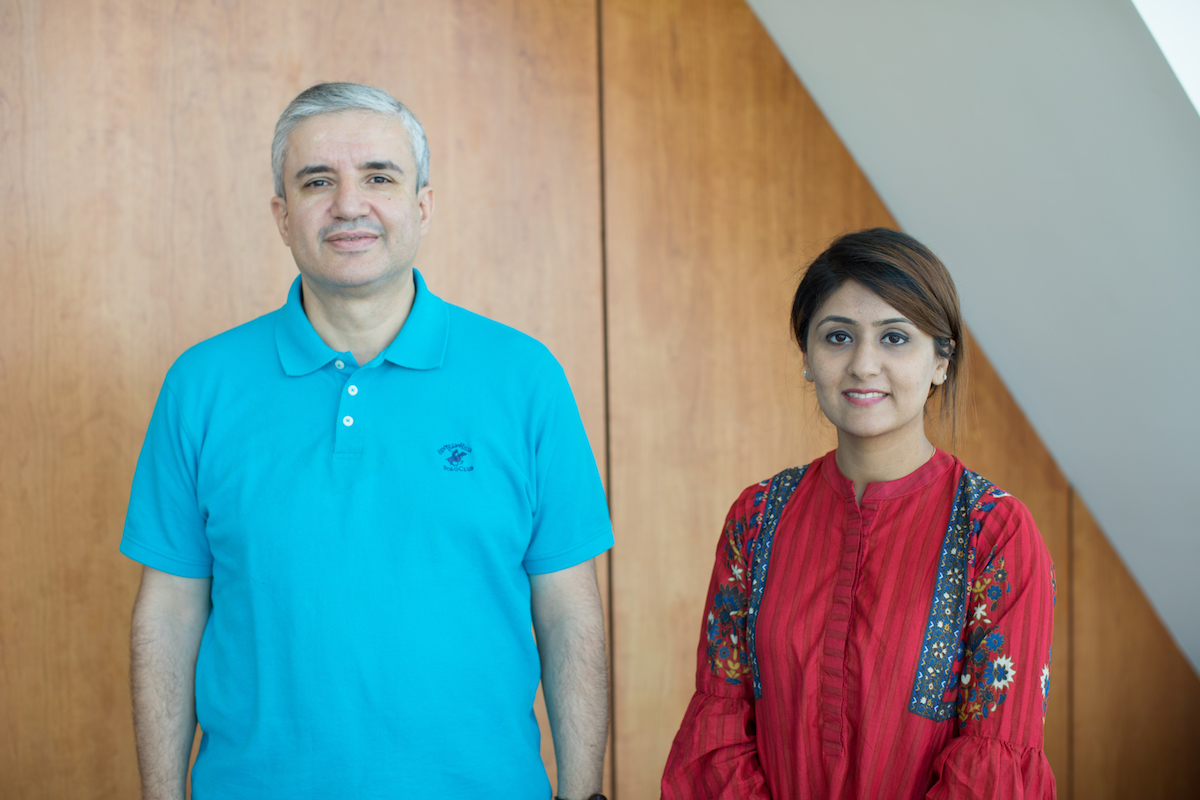 KAUST Ph.D. student Qurrat-Ul-Ain Nadeem works with Professor Mohamed-Slim Alouini (left) in the University's Computer, Electrical and Mathematical Science and Engineering division. File photo.
FD-MIMO has attracted substantial attention from the wireless industry recently as a promising technology for fifth generation (5G) cellular systems. It utilizes an active antenna system with a planar array structure to provide adaptive electronic beam control in the 3-D space. In contrast to much of the prior research that focuses on the standardization of FD-MIMO technology in the 3GPP, Nadeem's papers are distinguished by their depth in the theoretical aspects of antenna array and 3-D channel modeling.
"Qurrat's work establishes a proper link between the industry's vision for FD-MIMO and the theoretical study of 3-D beamforming," noted Alouini. "She published pioneer works on the development of 3-D channel models and spatial correlation functions. More recently, she put different aspects of FD-MIMO together to provide a mathematical framework for the design of elevation beamforming schemes in single-cell and multi-cell scenarios. Her works have gained a lot of visibility in a short time."
"The challenges I tackled to make this technology viable included the design and implementation of large scale antenna arrays and the extension of the 3GPP 2-D spatial channel model to the third dimension," Nadeem explained. "I think the most important outcome of my study on FD-MIMO is that it allows you to exploit the channel's degrees of freedom in the elevation to design these so-called elevation beamforming schemes that enable better spatial separation of the users."
These schemes are extremely beneficial in urban macro scenarios with high-rise buildings. Nadeem's simulations have shown that her proposed algorithms can more than double the average throughput performance of existing LTE systems.
Nadeem noted she always wanted to focus on research problems that were of interest to industry.
"Luckily for me, Dr. Abla Kammoun, a research scientist I worked with, worked for Orange, one of the biggest telecommunications companies in Paris. They were very much interested in working on FD-MIMO, and she pointed me to some 3GPP reports that had just introduced this technology using measurement results by several leading companies like Huawei, Samsung and Nokia. I knew it was a hot topic with a lot of commercial applications, so I picked it up right away," she said.
"The remarkable thing about our Young Scholar program is that it has, from the start, attracted nominations of the best and brightest young researchers from across the globe," stated Vinton Cerf, chair of The Marconi Society. "We are proud to welcome into our group extraordinary individuals like Qurrat, who are not only advancing our industry but inspiring and mentoring others to benefit humanity."
Young Scholar candidates are nominated by their academic advisors. Winners are selected by an international panel comprised of engineers from leading universities and companies and receive a $5,000 prize plus expenses to attend the annual awards event. Three other Young Scholars were also selected this year.
All will receive their awards October 2 in Bologna, Italy, at the same event where Akamai cofounder F. Thomson Leighton, a key contributor to the development of content delivery networks, will be honored with the $100,000 Marconi Prize.